Hi! My name is Kerrie Mullins-Gunst and I coach leaders and managers and other high potential individuals – just like you – to easily and effectively lead their teams to exceptional results.
When you see leadership and management done well, it looks so easy! But when you're the one in charge, it often isn't quite so straight-forward. In fact many people struggle to manage all the different challenges that the management or leadership role turns up every single day…
If that's you, you are not alone. Almost every leader or manager could do with a little help in some of these areas:
Do you need to invest some time in a little do-it-yourself team building?
Are you struggling to lead a team that you were previously in, after being promoted?
Do you need to know how to manage a large, diverse group of people, or even how to manage people remotely?
Do you wonder if things would be easier were you to improve your management communication skills?
Do you find things not working out as you expected? Are you sometimes uncertain about exactly what are the skills of a good manager?
If you appreciate the importance of developing yourself as a leader, you've come to the right place. You see I know that leading people truly can be easy, effortless and effective – when you know how …
So I have collected together some of my most valuable and helpful resources into this FREE Leadership Resources Pack which I am going to make available to you today, right now, no cost.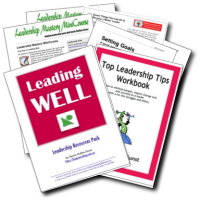 It includes:
your Leadership Mastery MiniCourse, delivered by email to help you maintain focus on the key elements of leadership and management success
your Top Leadership Tips Workbooks with many of my most requested articles, with additional information and exercises to help you apply the core ideas to your own particular situation.
special reports, including one on Setting Goals, and one on Seven Things You Can Do to Become a Better Leader, available for immediate download
a series of inspirational Leadership Posters you can display in your workplace
regular issues of Leading Well to keep you up-to-date with the latest in leadership ideas and resources, sent to you as they are available
and much, much more – including a range of other bonuses and surprise gifts …
Just complete this form to get them all now…

Please fill in your email address carefully as the download link for your free eBooks will be sent to that email address.


PS: Don't delay. You could be seeing better results today if you start applying these powerful yet simple ideas immediately.
PPS: Sometimes in life opportunities knock when we least expect them to, but true leaders like you recognize when these opportunities arrive and TODAY, the opportunity of a lifetime is staring you right in the face. There is so much you could gain…
PPPS: Please take care to enter your email address correctly and confirm it as soon as possible or you may not receive the information you have requested. Your information will be sent to you at this email address.